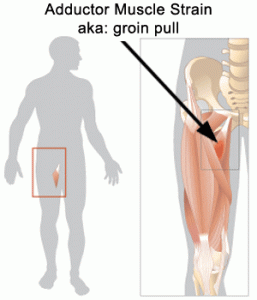 It's the end of March and spring is arriving across North America. For outdoor tennis players on the West Coast spring is already well underway. For players in the Northern US and in southern Ontario, tennis has been plausible if not convincingly possible everywhere for a couple of weeks now.
In Western Canada, where I live, hardcore players will begin hitting the outdoor tennis courts sometime in April. Nets are already up and waiting in many cities. Community nets will follow by about the middle of the month — weather permitting.
But is it wise to play tennis when the mercury is sitting at or below the 5° mark? Depending on who you talk to, that's a debatable question.
Experts generally recognize five risk factors when it comes to groin injuries.
Explosive movements Fatigue Tight groin muscles Overexertion Cold weather
Tennis requires explosive movements. Even players who are "just rallying" will often move explosively when a sudden burst of speed is needed to chase down a wide or shallow return.
Tennis also leads to fatigue and overexertion. And for many recreational players — especially those who have not spent the winter playing indoor tennis — their fitness level is especially poor at the beginning of the season when the weather is the coldest.
Cold weather, therefore, presents a real danger to recreational tennis players. The chances of suffering a level 1 or level 2 groin pull when the temperature is hovering just above zero is real and substantial.
Players must take great care to undertake a full and proper warm up. They must also be vigilantly aware of their body temperature, especially when playing rec-level doubles matches during which there can be long periods of little activity.
Whenever this happens, it is likely that their groin muscles will cool down and tighten up. At this point, the risk of suffering a muscle tear from a sudden, explosive movement becomes a very real possibility.