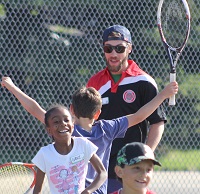 If you are a recreation coordinator for a community association in Calgary, you know it's not always easy to find good instructors for your summer tennis camps.
Most freelance instructors are under-equipped for this task. Either they do not have the right balls for the right age groups or they lack the nets and temporary lines needed to make the courts the correct size for their students. The result is typically low quality lessons that will not satisfy your customers.
On top of that, most of the people available to teach tennis in the summer are not available when you need them. Or, they commit to doing the program and then fail to deliver on their commitment because they get a full time job or are hit by a personal calamity, such as illness.
Fortunately for Calgary community centres, Racquet Network has a full state of certified adult tennis instructors who can be hired to come in and deliver high quality tennis camps and programs for all age levels.
All Racquet Network instructors are fully certified adults who have completed police background checks. They are backed by a warehouse full of tools and teaching equipment and a team of professionals who can cover for them in the event of illness.
Hiring Racquet Network gives camp coordinators peace of mind. They know that the instructors will be there on time and with the right tools every day they are supposed to be. If an instructor is ill, no worries; Racquet Network sends a replacement who teaches the same method from exactly the same lesson plans.
Racquet Network is currently rated A+ by the Better Business Bureau of Southern Alberta. We have been operating in Calgary for more than a decade and have become the leading tennis teaching organization in Calgary. Call us at 403-238-0687 to find out how we can help make your summer tennis programs easy to run and capable of bringing customers back year after year.